For coffee connoisseurs, a cup of joe every morning is like an elixir that gives their body a boost to keep them going. However, not everyone is fortunate to have the luxury‒time or money‒to be their own barista at home with their fancy coffee machine. What if coffee can be made while you're on the go? Not instant coffee, but actual black coffee. All you need is any of the gadgets recommended below.
While curating this list, we have several important factors that make for a good coffee gadget. We have scoured the net to find the best coffee gadgets that tick our boxes as follows:
Portable
Easy to use
Intuitive design
Easy to clean
Durable
Aeropress Coffee Maker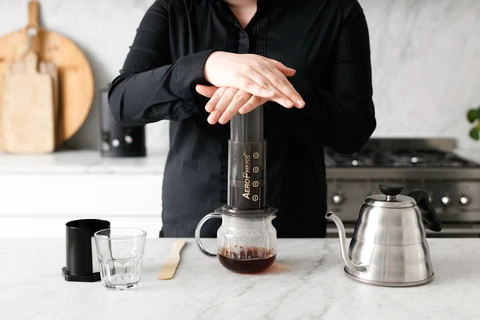 Perhaps the fastest way to brew proper coffee no matter hot or cold, Aeropress relies on gentle air pressure exerted from the push-down movement to extract a fuller and richer flavour from the grounds. Many coffee lovers prefer Aeropress over a typical French press as it produces less grit and is easier to clean thanks to its microfilter. A typical Aeropress can brew a mug of Americano or 1 to 3 espresso shots in just a minute, depending on the amount of water and coffee grounds used.
HARIO Filter-in Coffee Bottle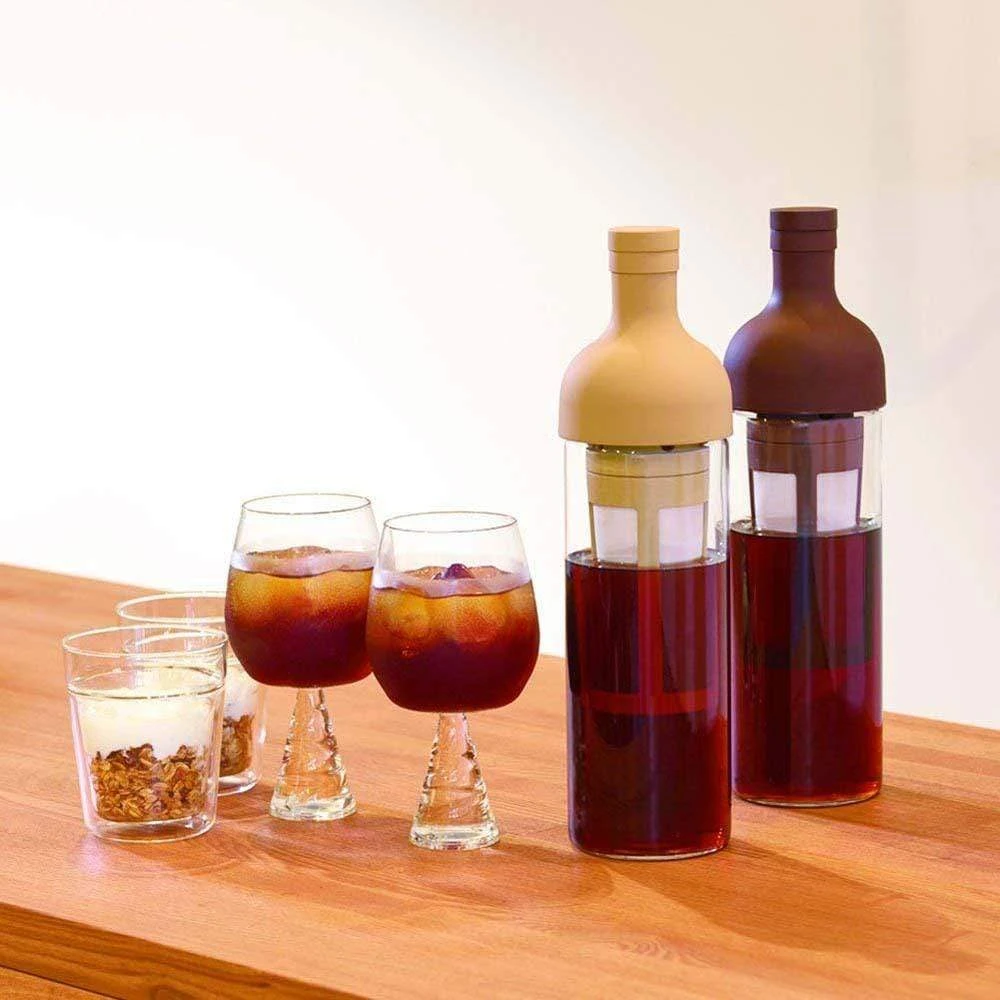 Think you saw a bottle of wine? Look closer – it is a cold brew bottle shaped in a wine bottle. Cold brew is one of the most-favoured caffeinated drinks these days as it tastes smooth and flavourful without the addition of sugar or milk. Simply pour your desired amount of coffee grounds into the internal strainer and saturate it with cold water. Place this bottle in the refrigerator overnight or at least 8 hours, and you'll get yourself 2 cups of cold brew easily. The next time you're having a wine party, consider bringing this to surprise your friends or family!
SOMA Double Wall Glass Tea and Coffee Cold Brew Bottle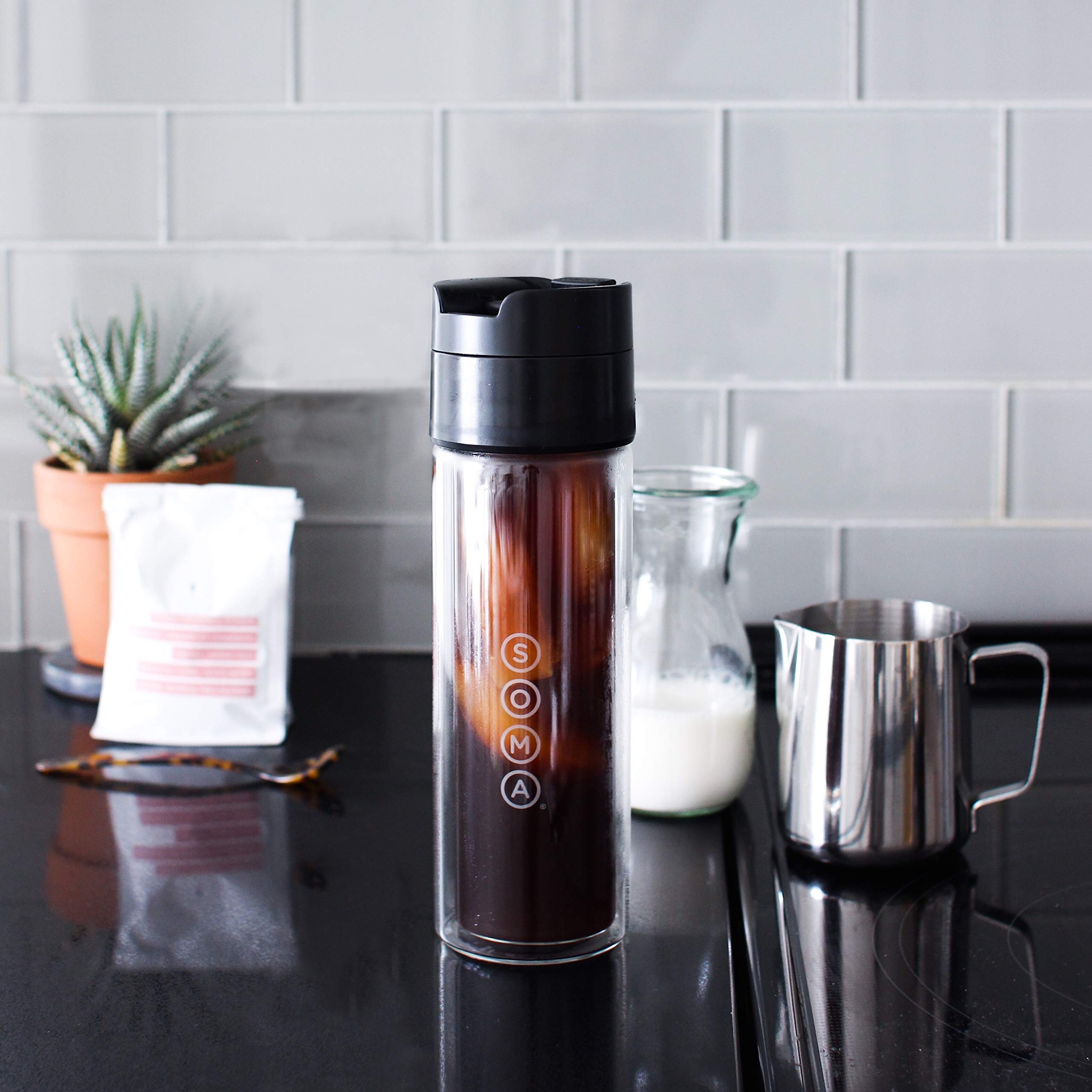 Maybe the wine bottle design is not your cup of tea, and you prefer a regular bottle that comes with a flippable lid instead. From afar, it looks just like an ordinary tumbler, but it comes with an additional internal strainer. Whether you're making your java hot or cold, the bottle's double-wall glass is going to retain the temperature well. Scoop in several teaspoons of coffee grounds, pour in hot or cold water, and put the lid on. When you want to get yourself caffeinated, just pop the lid on and consume directly after removing the strainer. On days when you don't feel like drinking coffee, you can even steep loose leaf tea in this bottle too!
Cafflano Klassic Portable All-In-One Pour Over Coffee Maker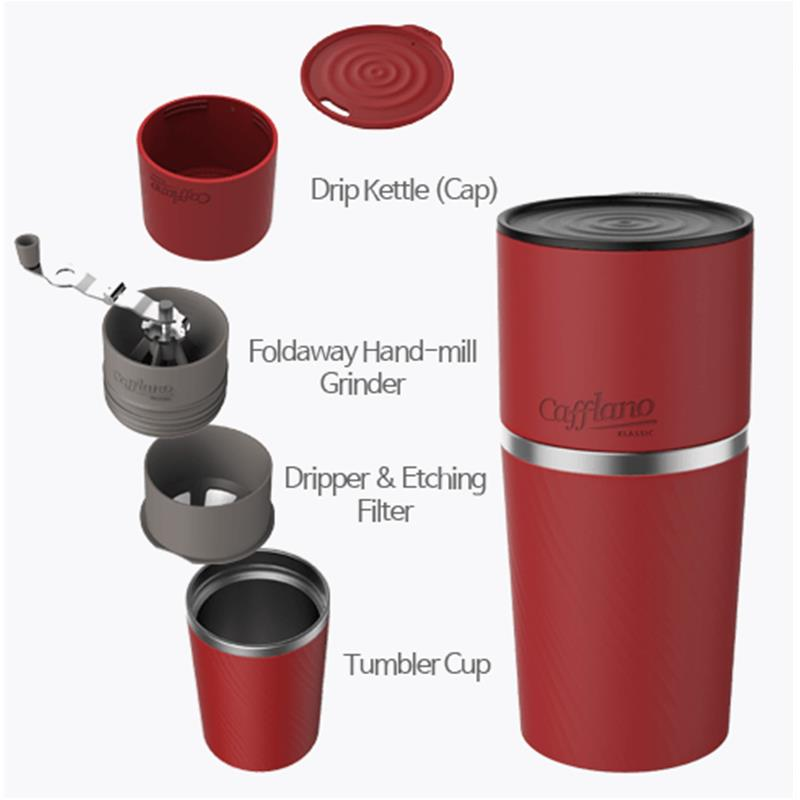 This Cafflano Klassic all-in-one coffee maker covers the functions of a drip kettle, hand-mill grinder, filter dripper and an insulated tumbler cup, making it the most portable coffee maker to bring on any hiking or camping trip. Its compact size makes storing and carrying it around a breeze. That means you won't have to carry a water flask, filter or dripper, and hand grinder as separate accessories. Still not convinced? This innovative design was even voted the Most Innovative Product at the New York Coffee Festival and the Cookshop & Housewares Association.
Staresso Portable Coffee Maker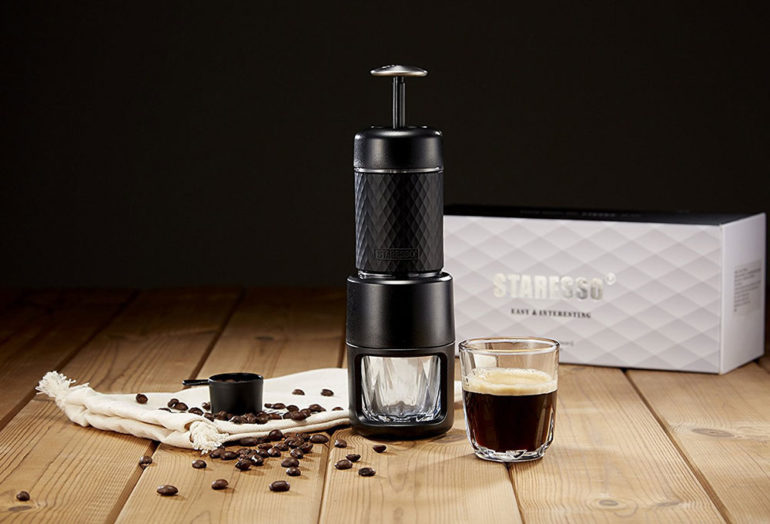 What if you can carry a coffee machine that froths without a milk frother? Judging from the size, it may look small but its strong performance in making a cup of rich espresso that's low in acidity and bitterness is not to be underestimated. Just as intuitive as any portable coffee maker, this gadget requires techniques similar to how one uses an Aeropress and a French press.
Simply add 5 to 10 grams of finely ground coffee to the basket and assemble the brewing pieces. Then, pour 50 to 80 ml of hot water into the upper chamber, and twist the lid tightly. Pump continuously for 15 to 30 seconds to deliver an espresso shot. If you'd like to make a latte or cappuccino, add hot milk to the upper chamber and repeat the pumping process to get nicely frothed milk, then top it on your espresso shot.
Everyone likes their cup of java brewed differently, and the coffee makers above can be used according to your personal preference. Get one of these today to make the perfect caffeine fix for yourself!
Follow Techia for more informative articles.